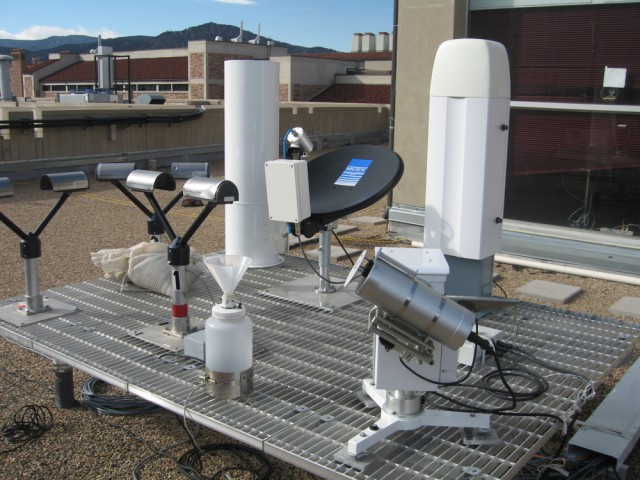 We are currently operating two PARSIVEL disdrometers, a micro rain radar, and a radiometer. If not deployed in one of the many field campaigns, the instruments are part of the Study of COnvective and Orographic Precipitation (SCOOP) project and are deployed along the Colorado Front Range. Besides operating her own instruments, Prof. Friedrich has been the instrument PI for Doppler on Wheels radars for many experiments.
Older Projects:
Radar de Franche-Comte, INTERREG IIIa: Analyzing the added benefit of polarimetric measurements for rainfall rate estimation and forecast in the Alps, focusing on the influence of terrain and multiple water phases on the measurement accuracy of polarimetric quantities; international project between MeteoSwiss and the French weather service, Meteo France, (2005-2007).
Modernization of the Swiss national weather radar network: How to modernize the national weather radar network to better address users' needs, and conduct scientific requirements with the focus on utility ad feasibility of polarimetry for operational applications? (2005-2007).
International H2O project (IHOP 2000): Investigating kinematic and microphysical structures of a cold front and analyze the role of those structures relevant for convection initiation (2004-2005).
Convection and Precipitation/Electrification project (CaPE 1991): Conducting a statistical analysis of strength and frequency of misocyclones observed along thunderstorm outflows and the role of misocyclones on convection initiation (2004-2005).
Vertical Exchange and orography in the Alpine foreland (VERTIKATOR 2000): Using polarimetic Doppler radar together with three bistatic receivers to investigate the influence of orography on the onset of convection and downburst-producing thunderstorms using polarimetric radar data and wind-vector fields (2001-2004).
Frankfurt/Main International Airport (FRAPORT): Development of a concept of using weather-radar data (wind vector fields and radar reflectivity) for air-traffic management at Frankfurt/Main International Airport; project was commissioned by th Ministry of Transportation (2002-2003).
European COST, Action 717: Developing and testing concepts for an automated determination of radar-data quality for radar reflectivity, polarimetric parameters, and Doppler velocity for assimilation in numerical weather prediction models (2002-2004).
WakeVortex: Measurement and post-processing wind-vector fields to be assimilated into a numerical weather prediction model (2000-2004).
Atmospheric Dynamic Mission (ADM): Quality control algorithm for Doppler lidar measurements which should come into operation during the Atmospheric Dynamic Mission starting in 2007 (2002-2004).
Tropospheric Research Program (TSF): Investigation the influence of land-use heterogeneity on water and energy budgets (1993-1999).